---
---
Closing Celebration Austin Thomas 'Lots of little things' Sunday November 4th, 2018, 3-6pm at LABSpace, Hillsdale, NY
10/28/2018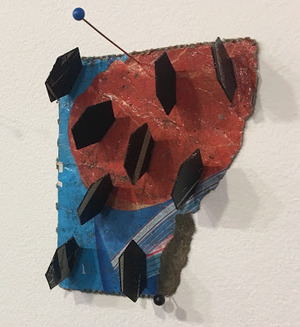 Closing Celebration
Austin Thomas 'Lots of little things' Sunday, November 4th, 3-6pm


LABspace
2642 NY Route 23
Hillsdale NY
917-749-2857
julielabspace@gmail.com
www.facebook.com/events/2160216287324113
---
Wave Hill Winter Workspace 2018
2/7/2018
This winter, Glyndor Gallery at Wave Hill, a public garden in the Bronx, transforms into a studio space for Austin Thomas, giving her the opportunity to develop new work and offer opportunities for public interaction in the context of the garden.

Austin Thomas is a cultural producer and artist who is interested in making connections between current art-making practices and art historical ideas. Thomas views the world around her as a creative space and utilizes her sketchbook as a portable studio that she fills with drawings and collages. During the Winter Workspace Thomas will continue this process by using her travel time to draw en route to Wave Hill, developing a body of work that begins on the subway and expands to the garden. She will start new larger work - colleges and paintings - as well as small-scale installations or three-dimensional models inspired by her commute drawings. Thomas intends to look at plants and incorporate what is observed at Wave Hill into her work, linking abstractions to the real world. The work will be a meditation on the dichotomies of small and large, nature and city, shadow and colorful forms, abstraction, and real life.
Open Studios
Saturday, Feb 10 - 12:00PM-3:30PM
Glyndor Gallery​
---
The New Yorker, Goings on About Town, ART GALLERIES —CHELSEA Austin Thomas
3/21/2017
A luminous suite of small monoprints hangs, salon-style, in a corner painted pink for the occasion. Looking at the overlapping shapes in translucent colors feels a bit like listening in as the artist hums happily to herself. Thomas made the prints using craft foam and templates she borrowed from a metalwork shop; the results have an improvisational buoyancy. In one piece, a black semi-ellipse (made from a template used to shape ducts) sails vertically across magenta, orange, and pale-blue circles, tipping back slightly, as if reeling from the force of their current.



Morgan Lehman
534 W. 24th St.
Chelsea
212-268-6699
http://www.morganlehmangallery.com/artists/austin-thomas
---
Austin Thomas at Morgan Lehman Gallery New York, 534 W 24th Street Feb 16th – Mar 25th.
1/16/2017
Morgan Lehman Gallery presents recent drawings and print work by Austin Thomas. Created while in residence at Guttenberg Arts these new prints employ a unique collagraphic process whereby collaged forms are loaded with ink, which is then transferred in layers onto found paper.
---
New York City Department of Cultural Affairs, new Percent for Art commission: Artist Austin Thomas' "Plaza Perch" is now installed
7/8/2016
July 22, 2016 · New York City Department of Cultural new Percent for Art commission: Artist Austin Thomas' "Plaza Perch" is now installed and ready for visitors to use. The bench is made entirely from reclaimed wood from Coney Island. Pictured here: the first percher. Visit this permanent public art piece in Humboldt Plaza, Brooklyn.